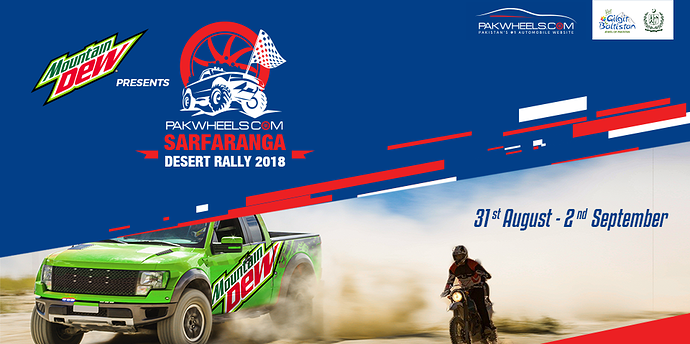 Sarfaranga Desert Rally 2018: Live updates from Final Race
It is a developing story.
For live timings, visit our timing portal
1517: Final rally concluded. Results will be posted in an hour.
1438: Today's last vehicle launched at 14:24
1432: Salma Khan leads the Women category with time of 0:37:43
1352: 34 Participants have completed their round successfully while 3 participants are DNF.
1350: Malik Waqas DNF!
1208: Babar Khan and Fawad Zakori are leading in their Prepared and Stock categories respectively.
1206: Shaheen Iqbal DNF!
1110: Its been confirmed. Asif Imam is DNF!
1100: Prepared A Standings so far: Babar Khan 1st, Fakhar Mahay 2nd, Nosherwan Tiwana 3rd
1040: Asif Imam's vehicle broken down. Most probably he will not make to finish line.
1027: Babar Khan has completed his final round with time of 0:25:05.
1020: Syed Asif Imam launched at 10:04 am, following him Nosherwan Tiwana and Fakhar Mahay.
1000: Babar Khan launched at 10:00 am. The final rally round has officially started.
0930: All arrangements are being finalized. Babar Khan is expected to be launched at 10:00 am.