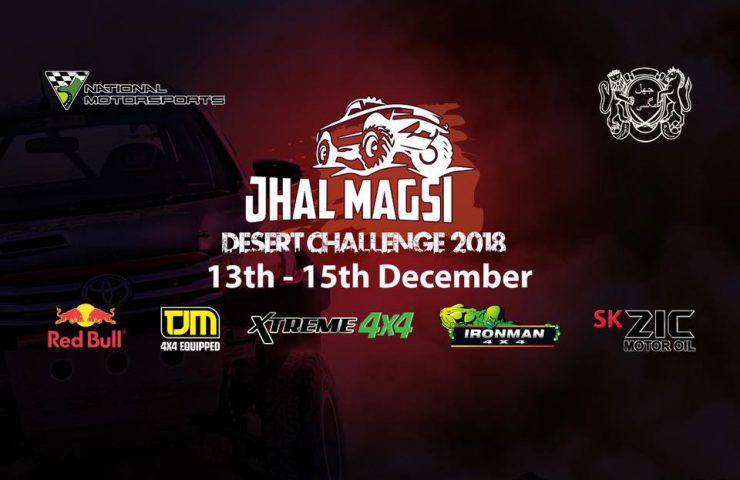 Countdown to 14th Jhal Magsi Desert Challenge
The 14th annual Jhal Magsi Desert Challenge 2018 is about to kick off on the 13th of December as opposed to on 14th. The rescheduling of the event came as it coincided with APS Attack memorial services. At least 60 participants are expected while spectators settling in tent villages and camping sites arranged by the Magsi Family. These areas have running water and electricity along with food stalls providing three meals per day. RASE remains the official timing partner for the event. Racers would be competing on a 220 kms track which runs in a loop. It has been divided into 2 stages where the starting point would be Stage 1 ending at 78 kms. Stage 2 would be of 142 kms finishing by reaching the same starting point in a closed loop.The track goes through sand, rock, pebbles, and a drive over water streams making it difficult to steer across leaving the desert challenge with a rate of 30% DNFs (Did not finish). NMS (National Motorsports) in collaboration with Pakistan Army and the Balochistan Government has ensured complete security for the event. Official sponsors include giants like Red Bull among others.
Famous participants include Nadir Magsi, Sahibzada Sultan, Asad Khoro, Mansoor Halim, Zain Mehmood, Zafar Magsi, and Tushna Patel. Categories remain the same as usual such as, Prepared (A,B,C,D), Stock/Production Class (A,B,C,D) and Women.
The schedule includes Registration on Thursday 13th, Tech & Qualifying round of all Production and Prepared categories. Friday 14th is all set for Race day for all production categories and women category. Race day for all Prepared categories followed by prize distribution ceremony to be held on Saturday 15th.
Gen. Asim Bajwa DG ISPR and CM Balochistan Jam Kamal are expected as chief guests.
What is Jhal Magsi?
Jhal Magsi is a district in central Balochistan in Pakistan under the leadership of the Magsi Tribe. The first Jhal Magsi Desert Rally was organised in 2005 and has been active since due to popular demand. It has seen foreign rally-drivers like Abdo Feghali of Lebanon and Turkish woman driver Burcu Cetinkaya.